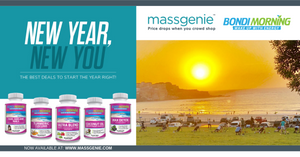 COSTA MESA, CA - 01/31/2019
Today MassGenie and Bondi Morning announced a strategic partnership to connect social shoppers with a new range of high quality nutritional health supplements that are uniquely tailored to help combat a lack of energy.
Both companies have identified the start of a new year as a unique opportunity to reinvent oneself, re-energize and better prepare for the year ahead.
When it comes to managing a healthy lifestyle, reducing fatigue and gaining more energy are a top priority for people in their 20's, 30's and 40's, according to recent NMI research within the health and wellness market in the USA.
To support MassGenie's 'New Year, New You' campaign, the companies have partnered to drive a strong message of health and wellbeing, and provide a relevant product offering to customers looking for more energy and control over the way they live their life.
Comments on the announcement:
"MassGenie is excited to partner with Bondi Morning" said Dan DeVries, COO of MassGenie. "MassGenie allows people to transact commerce in a fun, exciting and memorable way. Bondi Morning is bringing back fun into health and nutrition."
"Bondi Morning believes in the power of social shopping" said Ryan Falkoff, Co-Founder of Bondi Morning."MassGenie provides access to young, proactive and highly influential customer base with the potential to help build the Bondi Morning brand and reach more customers with a message of wellbeing."
About MassGenie:
MassGenie is a social shopping marketplace specifically designed and curated to provide a fun, memorable shopping experience. MassGenie's vision is to redefine the online marketplace experience through the power of social shopping. Its unique model offers people opportunities to make their voices heard. "Power Deals" give buyers leverage to drive down prices through crowd shopping fueled by social media. MassGenie empowers customers with the products that they need or want at the best possible price. To learn more about MassGenie, visit https://www.massgenie.com.
About Bondi Morning:
Bondi Morning is a lifestyle-focussed health supplement brand that celebrates the idea of 'waking up with energy'. It offers a range of specialised product formulations that aid a variety of health conditions and boost energy by supplementing nutritional deficiencies. It's products are GMP certified and made in FDA registered facilities in the USA. The Bondi Morning brand embodies the powerful morning energy and boundless natural beauty, as well as the benefits of beachside living and an early morning routine, experienced while living at Australia's most iconic, Bondi beach. Bondi Morning empowers its customers to embrace a healthier and more balanced lifestyle in order to live each day with more power and vitality. To learn more about Bondi Morning, visit https://bondimorning.com.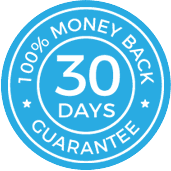 30 Day Money Back Guarantee
We're confident in the quality of our products. That's why we back them with our 30-day guarantee. If you try a Bondi Morning product and you're not satisfied for any reason, simply contact our customer support team for a hassle-free refund.

Subscribe To Our Newsletter &
Save 10%

On Your First Order
How Severe Is Your Lack of Energy?
Ready To Wake Up Every Day Feeling Turbo-Charged?
Take our 3 minute quiz and discover how to catch your energy wave each morning.